Friday, September 29, 2006
Palermo 3-0 West Ham
There was once an old Cuban fisherman called Santiago. He hadn't caught any fish for a very long time, but he was convinced that his luck would hold and he went out to try and catch something. He took his boat far out into the sea, and an enormous fish struck. The fish dragged the old man and his boat for three days, the old fisherman taking the strain of the line. Finally, with both of them battered and wounded, the man managed to stab and kill the fish with a harpoon. So, he tied the fish - a marlin - to his boat and headed back for sure. But sharks picked up the trail of fish blood and attacked the marlin. The old man tried to ward off the sharks, killing many of them, but eventually the fish was reduced to a skeleton. Despite the enormous mental and physical effort, the pure application of will, the old man got home with nothing.

Hemingway may well have been a West Ham fan but it's doubtful that he got up at a quarter to four in the morning to watch them. Those bubbles nearly reach the sky... but they fade and die.

Ah, what the hell. We'll be Hammers till we die. It's just frustrating as hell to get so tantalisingly close and then fail. Again.

Player ratings

Carroll - OK, did a good save, but possibly could have got to their opener and definitely should have come out for their second. Poor.
Konchesky - For fucks sake. Started well, defensively at least, but just seemed to lose it.
Gabbidon - The less said the better.
Collins - Quite good actually.
Spector - Did pretty well, although got skinned a couple of times. Better than I would have expected, and well involved.
Mascherano - Umm. The contentious issue. Many will disagree but again I thought he played poorly. It's his job to clean up in front of defence and he did not do that IMO.
Bowyer - Not bad. Like most others had a bad day but he looked like it was just an "off" day instead of being just a shit player.
Reo-Coker - GET HIM OUT OF MY FUCKING TEAM.
Harewood - Tried pretty hard I guess, and should have scored.
Cole - Did well at first but got tired - stayed on much longer than he should have.
Tevez - Ineffective.

Subs - don't care.

Palermo vs West Ham Second Leg Live at the Pig n Whistle!
***note doors will open approx 4:30am for 4:45am kick off***
Once again the Pig n Whistle, Eagle St are kindly going to open up for Live coverage of our second leg of our first round match vs Palermo in the UEFA Cup. With a 1-0 deficit to turn around we have a mountain to climb but the tie is interestingly poised and we are far from out. This match is only being shown on Setanta Sports so this is the only way to see this match in Australia.
Breakfast will be available from 7am so please show your thanks to the venue and hang around for breaky if possible. Drinks will be available from 7am if you are eating. Tea and coffee can be purchased when we arrive.
Coverage begins @ 4:45am Friday 29th September.
Let's get as many as we can there and give a good showing for the Brisbane Hammers once more. Last time we had about 20 – lets see if we can beat that for the second leg!
Sunday, September 24, 2006
Why its all gone pear shaped...
[comment] IMHO, Pardew is being forces to tinker with both the midfield and up front due to all of the new signings. Last season we had real continuity and consistency (and a lot of luck to avoid injuries that would have exposed our lack of depth).
This season we have done the right thing in strengthening the team in all areas and adding depth but Pardew has not been in a situation before where he has had this much cattle to accommodate and the issues that come with that. Since last season we have added Green, Stech, Paintsil, Mears, Spector, McCartney, Bowyer, Mascherano, Cole, Tevez.
Specifically he is feeling pressure to include world class players like Tevez & Mashie (not due to contractual clauses, but because of the very fact that they are world class).
And that has effected the status quo of the rest of the team. They don't know whether they are coming or going and it is effecting their games. There is no fluency. Combinations that have worked in the past with players instinctively knowing what those around them are about to do, have been broken up.
Pardew needs to add some new skills to his managerial repertoire fast. How to motivate players to bring out their best when their position is not guaranteed. How to experiment & nurture new combinations on the training ground. How to keep the dressing room happy including world class players who don't speak English.
Add to the palyer integration issues the fact that we have a defensive injury crisis playing out :-
- Painsil back in 10 days
- Mears calf strain (short term)
- Collins groin strain (short term)
- McCartney knee injury, expected to resume training in 2-3 weeks
- and now add Ferdinand presumably
Spector has played the last three reserve games (60 mins again Watford and the full 90 against Chelsea & Spurs) and yet could not even find a spot on the bench for this game. Consequently Dailly plays right back until Anton gets injured and then Pardew is forced to play Mullins at right back and switch Daily to centre back. I just can't make sense of Spector sitting in the stands.
Add your opinion to what's wrong in the comments.
Want a blogger identity so your name/nick will appear in the comments? Go to
http://www.blogger.com/signup.g
Forget Palermo - LET'S SEE IF WE CAN AVOID RELEGATION!
Just stayed up again to watch another crock of shite!

Everything is going against us - to think we had delusions of grandure just a few weeks back - well bump! Wake up lads - we're shit! Well we are if we play like a wet sponge as we have done since transfer deadline day passed.

This is starting to remind me of our relegation season where confidence was low and we had injuries to key players. To be honest it all started when Ashton broke his leg training for England before the season had started. Now we have Ferdinand out and doubtful for the 2nd leg vs Palermo this week.

Time to get personal:

Mascherano - you are a lazy cunt! What the hell was going through your head as you stood a foot away from Samaras as he watched the ball come down for 15 minutes turn and shoot??? FFS - Mullins must be well pissed off.

Reo-Coker - what the fuck are you all about eh? Arrogant as shit about your ability yet every time you get anywhere near the ball you're easily disposessed and when you don't have it your casually jogging around looking like you don't want it!

I honestly beleive if we don't sort this out soon we could be in trouble. :-(

Friday, September 22, 2006
Palermo 2nd Leg on Setanta Again
"Friday 29th September 4:30am
UEFA Cup
Palermo vs West Ham - UEFA CupLive coverage of this UEFA Cup tie from Stadio Renzo Barbera. The home side won the first leg 1-0 and will be heavy favourites to qualify for the next round. K.O. 04:45AEST "

Dave you wanna check with Arj that the Pig will open for us again? 4.45am k.o. this time rather than 5.00am by the look.

Monday, September 18, 2006
What a Joke!
Just stayed up til 4am to watch that shower of shite!

Fucking Joke! PARDEW SORT IT OUT!!!

Why leave Yossi out of the team???

Why can't we defend corners anymore?

AND WHAT THE FUCK IS ROY CARROLL DOING IN GOAL??????!!!!!!

I have to get up in an hour and a half - not fucking happy!

Match Prediction: Newcastle
Sadly because of Europe our game against Newcastle has been moved to Sunday and therefore no TV coverage in Australia. However if anybody is going to Asia this weekend, Star Sports are showing a delayed coverage which kicks off 2am AEST.


Our Opponents:

Newcastle come to town this weekend bringing back the ever popular (not) Glenn Roeder with them. The Geordies finished in 7th place last season in Glenda's first season as manager – ironically the same as his first season in charge at West Ham (we all remember what happened the following season). In other similarities we had long term injuries in our relegation season to key strikers Kanoute and Di Canio just as they do now with Owen. Newcastle's advantage over us in this tie last year was Michael Owen. An evenly contested game finished 4-2 to Newcastle with Owen's cutting edge in front of goal getting him his first hatrick for the barcodes and ultimately the difference between the two sides.


Player to Watch: Scott Parker

West Ham:

With Carlos Tevez and Javier Mascherano making their debuts in midweek I expect there to be no turning back for these twol. I expect Javier & Carlos both to start this weekend and I expect the team to go all out to end this mini baron run which has not seen us win since the opening game against Charlton. Bobby Zamora is still going with his goals in the league and has netted 5 goals in his first four appearances. Harewood looked sharp when he came on against Palermo in midweek and will be pushing to make a place in the team his own.

Predicted Hammers Team: Carroll, Konch, Gabbs, Anton, Mears, Bowyer, Mascherano, Reo-Coker, Yossi, Zamora, Tevez.

Player to Watch: Zamora

Prediction: 2-0 win

Friday, September 15, 2006
West Ham v Palermo
Man, am I tired - but I guess I can find a few minutes to sum up what I thought of the match.

Overall I thought we played well, but again lacked width and, very much unlike the West Ham I'm used to, were too slow in attack. Time and again we allowed Palermo to regroup and crowd the area in front of the 18-yard box. At first, we tried to draw them out by passing it around the back, but clearly the Sicilians were used to this and knew not to push too far forward. West Ham's reaction was to lay siege to the Palermo goal, and with so many bodies in a relatively narrow area in front of the goal, it was never likely that we could score. The few occasions that we did draw a scare was when someone sent the ball wide, such as Zamora's fantastic cross for Tevez to almost convert. Yeah, we were unlucky, but we were also profligate and - dare I say it - a little naive.

But at times we played with great verve and style, and only going down a single goal isn't bad against our Serie A counterparts. Bresciano had a fantastic game for them in midfield and most of their good moves came through him. Their right-back was in good form as well.

I'm not too concerned about going to Palermo needing to score. A win would have been much nicer of course but it wasn't a bad foray into European competition.

Player ratings

Carroll 6 - erm, some brilliant stuff and some very dodgy stuff. Plucked one ball out of the air like he was a fireman catching a baby, then spilled the next.
Konchesky 6 - Defending well, but not effective coming forward. Konch, will you please stop taking free kicks, ta.
Gabbidon 6 - Cleaned up pretty well most times but was caught out once or twice.
Ferdinand 6 - A shaky start, then improved - then gave a goal away.
Mears 6 - I think he's improving. Seemed to be more confident.
Mascherano 6 - Poor game I thought, apart from one or two really great tackles. Just seemed to let opposition players straight through his area for Gabbs and Anton to deal with. Some good passing though.
Tevez 7 - Classy and hardworking, but faded in and out. Some magnificent touches.
Reo-Coker 6 - Frustrating. Poor end product. Needs to step up.
Yossi 7 - Once again, heavily involved but slow to shoot. Pull the trigger now and again mate.
Bowyer 5 - Practically absent but had one excellent chance.
Zamora 7 - Still in fine form.

Etherington 7 - Looks much better and gave us much needed width. Must start next game.
Cole 6 - Unimpressive.
Harewood 6 - Unlucky not to score.

West Ham vs Palermo Live @ the Pig n Whistle, Eagle Street, Brisbane!
***note doors will open approx 4:45am for 5am kick off***
Due to an excellent relationship between the Brisbane Hammers and the Pig n Whistle, they are kindly going to open up for Live coverage of our opening game in the UEFA Cup so we can cheer on the Hammers on their European Tour. This match is only being shown on Setanta Sports so this is the only way to see this match in Australia.
Breakfast will be available from 7am so please show your thanks to the venue and hang around for breaky if possible. Drinks will be available from 7am if you are eating. Tea and coffee can be purchased when we arrive.
Coverage begins @ 4:45am this Friday 15th September.
Let's get as many as we can there and give a good showing for the Brisbane Hammers.
Perth. The game will not be shown live but it will be Shown at the Floreat Athena Clubhouse, Britannia Rd in Perth at 7 o'clock. We are treating it as if it were live game by avoiding the result, so no blabbing. Perth West Ham Supporters Club

Sydney. Scruffy Murphy's. Its on the TV sports schedule on the website too. http://www.scruffymurphys.com.au
Thursday, September 14, 2006
Dean Ashton
The following is a message from Dean Ashton on his diary at
icons.com
:
Thanks for all your kind messages
I would like to say thank you to everyone that has sent me e-mails wishing me well, it is great to hear from you and your messages have been very kind.
It has been almost a month now since I broke my ankle. I had to have surgery on it and the bone was fixed back into place with two screws. I'm happy to say that the worst is over and it is feeling a lot better; my ankle is now in a lightweight cast and I can move it around quite a bit. It isn't painful any more either, which is the main thing! Now I am just waiting for the cast to come off and to see how it's doing, then I'll have a better idea of my recovery time.
Waiting can be very frustrating. It isn't the overall picture that is the bad thing – the fact that I can't play. I can handle that, just about…It is more the human, personal things that get so testing. It is easy to accept that breaking bones can be part of football but when you are at home, trying to get around, and can't do the things you would normally do on a daily basis, that's when it gets really hard.
I am trying to stay positive through it all though, there are times when I get a bit down but mainly I am doing pretty good and trying to keep myself busy. I'm not sure how long it is going to take to heal, it was originally said it would take about four months but no-one can be sure. It would be great if it is better in four months, but you never know how long these things can take, so if it is a bit longer then I'll just have to wait.
It might be hard for some people to watch football when they are out with an injury, that's easily understandable, but I don't mind it all. I like to watch the team and see how they're getting on and see how my team-mates are doing. I like watching football in general so it doesn't bother me. I have been watching everything – England, West Ham and all the clubs I used to play for. I can't do much at the moment, so sitting in and watching the match on TV has been happening quite a bit!
When I was leaving the England squad Steve McClaren looked upset for me and said some nice things which was good to hear; it is really important to read positive comments about yourself, but my England debut wasn't to be and that's that. Alan Pardew and some of my team-mates were ringing me up too and visiting to see how I was doing, but when you get injured you are put on the back burner. Football doesn't stop for you, that's just the way it is.
It looks like Bobby Zamora has started the season really well, which isn't a surprise considering how good he looked in pre-season and how hard he always works. He and West Ham are both looking good; I'm pleased that they are doing so well. When I am back fit I will be one of six strikers and there will definitely be competition to play but when you get to this level the competition is what gets the best out of you - you either want to rise to that challenge or you don't.
There has been so much in the news about West Ham's transfer dealings but I really don't know too much about our new signings Tevez and Mascherano. I have never really seen them play, even in the World Cup. Playing with them is the last thing on my mind, it's impossible to think about playing again at all at the moment. I just want to concentrate on my recovery.
I will let you know how my ankle is doing and keep you updated about all my progress here.
Wednesday, September 13, 2006
West Ham vs Palermo - UEFA Cup 1st Leg LIVE Broadcast - SYDNEY
Friday morning 15th September at 4.30am LIVE from Upton Park West Ham United take on the Italian Club Palermo in the 1st Leg of the qualifying round of the UEFA Cup.


I know its VERY early so please support The Hakoah Club and get there if you can. The match is ONLY on Setanta Sports so the only way to see the match is at our venues:


SYDNEY
The Hakoah Club
61-67 Hall Street
BONDI NSW 2026
Tel: 02 9130 3344


Entry is FREE!

Monday, September 11, 2006
Hammers Lucky
A 1-1 draw at home to Aston Villa was a somewhat flattering result for West Ham as they apparently succumbed to stagefright in their first match following all the hype over Tevez and Mascherano.

The two signings were on the bench though as Pardew named the usual side, with the exception of Mears filling in for the injured Pa(i)ntsil.

Villa ran us ragged for the first half, with the central midfield pair barely getting involved. West Ham just kept giving the ball away cheaply, and it wasn't just one or two players but most of the team. Konchesky in particular kept reverting to the long ball, while Gabbidon, Mullins and Reo-Coker could hardly get a forward pass to its intended target. Villa scored early with a goal from a corner - this was to set the tone for the match as West Ham seemed to have no idea how to deal with any of their set pieces. In fact, Mears had to clear off the line with a spectacular and skillful bicycle kick, and Ferdinand also saved our bacon with another clearance soon after.

Honestly the first half was miserable. We were lucky only to concede a single goal. But there were two rays of hope - Zamora, who was very active and provided some great support work, and Benayoun. The little Israeli was trying his best to get the other Hammers involved but nobody was really giving him any support.

I'd hoped the second half would be different, and it was, sort of - as seems to be our way lately the Hammers kept building momentum. A great corner from Bowyer found Konchesky outside the area, and the bald headed fullback's bullet header was deflected into the goal by - who else? - Zamora. Z-man had a quiet second half but a good goal, unlike his very good first half and no goal. Go figure. Personally I'd give it to Konchy as Zamora barely knew anything about it - but it's nice to have someone at the top of the scorer's charts.

The momentum kept building although Villa still had their chances. Pardew brought on Etherington, who looked seriously lacking in fitness but not in heart, and the much-anticipated Carlito Tevez. The latter seemed to fire up the Hammers as they all started to follow his lead: chasing the ball and really trying to tear Aston Villa a new arse. It nearly came off a few times, particularly with the lively Benayoun, but a second goal would have been a bit fortunate considering Villa's domination of the midfield. In the end he snatched at a volley in the hurry to get a winner, when on another day he'd have been composed enough to perhaps control the ball and slot it in. But it would have been more than West Ham deserved, and hopefully they will have their heads sorted before the next match.

Player ratings

Carroll 7 - Didn't do much wrong and made a couple of good saves. Decent distribution.
Mears 6 - Not sure what to make of him. Needs to step up really. Fantastic goalline clearance though.
Ferdinand 6 - The better of the back two, but didn't really seem to get a hold of the game. Sometimes lost concentration, at other times did some great work.
Gabbidon 5 - Another poor game from Gabbers. I don't know what's happened to him but he couldn't do much right. Time for his fiery-haired Welsh teammate, perhaps?
Konchesky 6 - Good defending, occasionally out of position but generally good. Rotten distribution spoilt his game.
Bowyer 6 - Passed the ball well generally but drifted in and out.
Mullins 5 - Overran.
Reo Coker 5 - Did two things that were good, but was absent for long periods and kept giving the ball away.
Benayoun 7 - Great effort, covered a lot of ground trying to get things moving along, but West Ham suffered from the lack of width that this brought about.
Harewood 5 - Dear oh dear. I'd be surprised if he starts next match.
Zamora 7 - Tough one to score. Good first half but absent in the second half, yet he got a "goal". Still worth a start.

Tevez (on for Harewood) 7 - Man, has this boy got quick feet or what. Looks good, but still not fit.
Etherington (on for Bowyer) 6 - Tried to do his usual thing but it wasn't coming off due to a lack of fitness. Needs to get some game time.
Cole (on for Zamora) - 6 No time.

Sunday, September 10, 2006
Match Prediction: Villa
Our Opponents:

Villa are rejuvenated this season since the appointment of Martin O'Neill and so they should be – he is a bloody good manager. However they have not inspired me with their activities in the transfer market this summer and I think a mediocre season is all they can expect with or without Martin O'Neill. Their most dangerous striker is Milan Baros and although on his day can produce, he was easily kept at bay during our double over the villa last season.

Player to Watch: Milan Baros

West Ham:

A strong performance at Liverpool was unfortunately not enough to take anything from the game. However with the signings of Carlos Tevez and Javier Mascherano Pards now thinks we can step unto the next level. I expect Javier to start against Villa and I would expect Carlos to make an appearance sometime in the second half. Bobby Zamora has got off to flyer and hopefully he can add to his chart topping 4 goals.


Predicted Hammers Team: Carroll, Konch, Gabbs, Anton, Mears, Bowyer, Mascherano, Reo-Coker, Yossi, Zamora, Harewood.

Player to Watch: Zamora

Prediction: 3-1 win

Thursday, September 07, 2006
The Whole Story
This article
by Mihir Bose in the Telegraph would appear to have the full details of the transfers.
"

The deal was a free transfer from Corinthians to West Ham, although West Ham paid around £5 million in agents' fees.

West Ham also had to agree a clause, the opposite of what Malbranque wanted. This clause specifies that West Ham have to sell if a bid comes in for the two players at any time in the next five years. To keep the players, West Ham will have to pay £40 million. In other words, this is like a purchase option on these two players – not a sell option.

The transfer met Fifa regulations & the players are on normal West Ham salaries.

"



It would also appear the Mancs were full of crap when they said they turned Mascherano down...wank wank.

There is also some vague info about the takeover where there is a suggestion of a middle eastern backer "who would add a nought to the riches of Roman Abramovich."




Tevez and Mascherano Press Conference SSN Report
Special thanks to BoofBonkBoosh for capping this.



Carroll injured....again
Roy Carroll has reportedly done himself another injury with an apparent groin strain and was substituted after 11 minutes in Northern Ireland's 1-1 draw against Spain.

If it rules him out against Villa then new recruit Rob Green looks to make his first start for West Ham.

With the existing injuries to other key players - Matty Etherington, Dean Ashton, and John Paintsil - Pardew will be glad of having some new additions so the squad.

Here's what I expect him to play:

Green
Mears/Anton/Danny G/Konchy
Bowyer/NRC/Mascherano/Yossi
Harewood/Zamora

Tevez will come on off the bench after about 60 minutes.

Come on Dave, where's your match prediction thread? :-)

Wednesday, September 06, 2006
Pardew: Four years.. and I'll pick 'em when I fuggin want'a
West Ham boss Alan Pardew has revealed that Tevez and Mascherano have signed on four year deals.

"People forget that they have signed four-year-deals," he said. "They are not going anywhere in the next transfer window, let's enjoy their quality and see where it takes us. We want to go to another level and challenge the big clubs and I think we're going down the right route to doing that."

Pardew added that he will choose his team on his own terms. "If anybody tries to tell me what team to pick I will go. I will not accept that and I want to make that clear right now. I won't accept that and I make that quite clear now so if there is a potential owner thinking that might happen, he best think again or he better think of somebody else. I am very proud of not just what I've done but also what my team's done. To think I would put that at risk in terms of somebody selecting or even implying that I would have to pick certain players, I just wouldn't accept it. It's not what me or my team are made of."

He added, "These are two guys on the world stage who have come to us in a manner which has some mystery around it. But I can't worry about that, as a manager I want to work with the best. I'm just pleased we've got two world-class players at West Ham. Anything else is not relevant in my view. It is intriguing, but to be honest I don't care."

Crikey! R.I.P.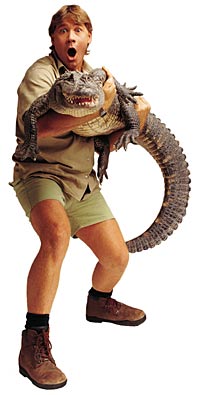 Here's a Better Photo! :-)
Tuesday, September 05, 2006
Comments on Argies vs Brazil
No-one else has posted their comments after the Argies vs Brazil game so I'll step up.

Tevez really impressed me...from the get-go he was sharp and lively. He was constantly getting the ball, holding it up, drawing defenders and laying off great little balls to players around him. I can really see Bobby, Marlon, Carlton & Teddy loving playing along side the little fella. Sure he ran at defenders as well and we know based on the last 3 tyears he has a real eye for goal..but he is seriously gonna be a great provider as well.

When he didn't have it he was chasing defenders and the keeper down, putting them under pressure and forcing mistakes or hurried distribution. Its all good.

Mascherano only played half a game and looked cool enough when he had it but it was hard to form an opinion. When the signings were announced I had high hopes for him becoming a real rock in defensive midfield and I still hope thats the case. But this performance didn't leave me drooling (unlike Tevez :)

Mullins is one of my favourite players and often does not get the kudos he deserves..knowing he is there allows NRC to get forward and get noticed...I've posted about fixture congestion this year and how we may well need all this new depth in spades...well having Mascheraro & Mullins in the squad makes me feel pretty good about the world.

Having Tevez out there has me creaming my panties in anticipation...

OMFG
I'm at a complete loss for words.
OZ Hammers at Johnny Warren Foundation benefit dinner
The following is an announcement by DPL. Note that tickets are $75 each and all proceeds go to the Johnny Warren Foundation charity.
Guys,
I have been offered 2 tables (only 20 seats) at the Johnny Warren
Football Foundation Fundraiser dinner on Sun 17 Sept for the OZ
Hammers. I attach a flyer called "
Football-Feast.jpg"
.
There will be several high profile FFA football administrators and
players in attendance and more will be announced this week.
So far we have Les Murray (SBS), Steve Corica (Syd FC), Mark Milligan
(Syd FC), Terry Butcher (Coach Syd FC) and Phil Wolanski (Board
Member FFA and Manager of the Australian team at the World Cup) and
waiting on answers from a few others ie Robbie Slater, Anthony
Lapaglia, Andy Paschalidis etc.
This is principally a fund raiser for The Foundation and during the
night we will also be conducting a silent auction featuring some
wonderful football memorabilia and more to 100% benefit to the Johnny
Warren Football Foundation.
As the event is almost sold out, please let me know very quickly if
you would like to be on one of the OZ Hammers tables. Please respond
no later than Friday this week.
regards
dpl
--
[ed: if you're interested
email me
and I will pass your message on to DPL.]
Saturday, September 02, 2006
BBC: Bid talks underway
C+P from BBC
West Ham in takeover discussions
West Ham are having "exploratory discussions" over a possible takeover.
The move comes hot on the heels of the club luring Argentine pair Carlos Tevez and Javier Mascherano to the club.
"Discussions are at an early stage and there can be no certainty that an offer for West Ham will be forthcoming," said a club statement to the Stock Exchange.

"The board also confirms that there is no contractual link between the signing of the players (Tevez and Mascherano) and the bid discussions."
Georgian businessman Badri Patarkatsishvili said on Friday he was considering investing in the club with Kia Joorabchian.
Iranian-born Joorabchian was president of Media Sports Investment (MSI), who owned the rights to the Argentine stars who signed from Corinthians on transfer deadline day.
Joorabchian reportedly resigned as president of MSI in June but retained an investment in Tevez and Mascherano.
And a spokesman for Patarkatsishvili said on his client's behalf on Friday: "It is true that Kia Joorabchian is my friend and we have done business together in the past.
"At this time I am not involved in any possible bid for West Ham but I am thinking about it and cannot exclude such a possibility in the future."
Patarkatsishvili is Georgia's largest private investor and chairman of the Georgian Business Federation.
But Russian Boris Berezovsky is not interested in any bid to take over at Upton Park.
A statement issued on his behalf said: "Mr Berezovsky wishes to make it clear that he has absolutely no involvement financial or otherwise in any possible bid for West Ham."
MSI have a stake in Brazilian club Corinthians and pulled out of a potential takeover of the Hammers in November 2005 after failing to agree a price with the club's directors.
West Ham would not be drawn on revealing who they were in discussions with about the possible takeover.
But Joorabchian told BBC Radio Five Live on Thursday: "MSI is a company that will not invest in European football as such by investing in a club, so that speculation is out for sure."
Joorabchian did admit that potential takeover talks last year between MSI and West Ham, served as helping build the relationship which led to the Hammers signing Tevez and Mascherano.
"Last year we spoke a lot with West Ham because we were looking at making potential investments which we never did," he added.
"We had a very good relationship with the chairman Terry Brown and Paul Aldridge.
"That relationship continued like a friendship and when this came about we started to speak and here you have it.
"You have two of the best players in the world playing in a big fantastic club."
Friday, September 01, 2006
Tevez: I stood on the North Bank as a kid...
...well not quite, but he says that he has followed West Ham recently thanks to a close friendship with ex-Hammer and fellow Argentine Lionel Scaloni.

C+P from the official site.

Carlos Tevez and Javier Mascherano insist they had no fear in turning down some of Europe's biggest clubs in order to join Alan Pardew's exciting young squad at West Ham United.

The Argentinian pair completed a sensational move to Upton Park from Brazilian club Corinthians on Thursday afternoon, and revealed that - thanks to their friend and former Hammers loan signing Lionel Scaloni - they are fond admirers of the claret and blue.

Striker Tevez, widely regarded as one of the most exciting young players in world football, said: "I first heard about the possibility of joining West Ham United 48 hours ago. I had followed the club quite a bit last season because I am a close friend of Lionel Scaloni. We watched every West Ham game in Argentina because of our friendship and he spoke very highly of the club, its supporters and the manager.

"Yes, it's true, other clubs in the Premier League and around Europe were interested in signing both myself and Javier. But when we met Alan Pardew the choice was simple - he made us both feel really wanted.

"I know there will be a lot of fuss around us because we are two new players from Argentina, but we see ourselves as team players, not individuals. That was another attraction for coming here - Mr Pardew explained that there is a great team spirit at the Club, and we want to be a part of that.

"When you are thousands of miles away from home, team-mates become like family, and it is important to have a good spirit - it shows we are all working together. We both want to learn English, because it is important to integrate with the team and our new colleagues."

Mascherano, who at 22 is the same age as Tevez, was equally excited about the move and admitted that it was also the influence of the Hammers boss that persuaded him to put pen to paper at Upton Park.

"Mr Pardew's enthusiasm rubbed off on both of us," says Javier. "He talked about his vision for us and the club, and we both became very excited. He is organised, with a clear idea of what he expects, and I was very impressed with his approach.

"I am also aware of some of the great players at West Ham. I know of Anton Ferdinand - he is talked about a lot in Argentina as a great player of future, while I also like Nigel Reo-Coker, who is a very dynamic captain and displays the work ethic that is clearly in place at West Ham.

"We also like the sound of English football being quicker, with a lot of pressure. We will both improve as players because of that. And I am excited about playing in the UEFA Cup. In Argentina, European competition matches are watched with great enthusiasm, and it will be a wonderful experience for us."

Tevez has been handed the number 32 shirt at Upton Park, while Mascherano will wear number 16. Both have already shown a keen willingness to settle into life at Upton Park straight away - the first question they asked upon being presented with a West Ham United shirt was: 'Tell us about the Hammers - where does that symbol come from?', while as Chairman Terence Brown revealed, Javier even asked to be given the number six shirt made famous by Bobby Moore!

Both players are currently in London on international duty with Argentina ahead of their friendly match against Brazil at Arsenal's new Emirates Stadium on Sunday, and will report for their first day's training with the Hammers on Tuesday.

Details of their official unveiling as West Ham United players will be announced here on whufc.com as soon as they are confirmed.

IT'S OFFICIAL: Argentines join Hammers
Carlos "Carlito" Tevez and Javier Mascherano joined West Ham United on a permanent basis for undisclosed fees at about 5pm London time last night.
In what is surely the biggest transfer coup of the season and probably for many years, the Irons have snatched two very highly rated 22-year-old Argentines from under the noses of Manchester United, Arsenal, and Chelsea.
Time will tell if there's something shady going on but the fact remains that West Ham have become a real force to be reckoned with, with one of the strongest squads in the League.
The Club said: "West Ham United are delighted to announce the double signing of Argentinian World Cup stars Carlos Tevez and Javier Mascherano from Brazilian club Corinthians. The pair have been signed for an undisclosed fee and put pen-to-paper on permanent contracts with the club this afternoon. All other aspects of the transfers will remain confidential and undisclosed. The transfers represent a massive coup for the Hammers, who have beaten off some of Europe's biggest clubs to secure the services of the duo."
This has become a critical moment for the club, which may see the Hammers become one of the biggest clubs in Europe in coming years and equally may trigger another financial downfall. Time will tell if Brown and Pardew have made the right decision but for now West Ham fans will love seeing these two awesome players plying their trade at Upton Park.
Whether the players will walk straight into the squad remains to be seen but it is likely both of them to play as substitutes for the first couple of matches and then on a performance basis from then on.
Both players are available for the next match, against Aston Villa, but will first play in London at Arsenal's Emirates Stadium for Argentina's friendly against Brazil.